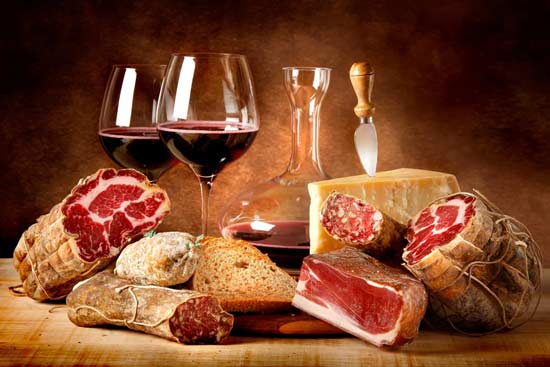 Every dish has its ideal wine to accompany and enhance the flavors being served. Naturally, the pairing of food and wine is a delicate subject, as many factors need to be taken into consideration. There are countless arguments of the matter at hand. For instance, what is the right room temperature for serving a Brunello? Is it always red wine with meat and white wine with fish? Of course this mostly depends on personal tastes and preferences, but a simple guideline to follow made by expert "Sommeliers" can make this challenging task fun and easy to comprehend.
As a rule of thumb during a meal the order of wine to serve falls in this sequence:
Always start with younger wine to conclude with more seasoned wine
Begin with dry wine and end with richer "full-bodied" wine.
Better to serve refrigerated whites first and finish with room temperature reds.
First of all simple observations on the foods to be served need to be dealt with. Just like a complex puzzle,every piece has its match. Are we serving cheese? Is it strong cheese with spices? Or Soft Cheese? What kind of cured meat are we dealing with? A prosciutto? Or a salami?
So here are our 12 Quick and easy steps for Wine and food pairing.
Let's begin with Appetizers:
Cured meat such as Parma Prosciutto and Salami.
– Wine : a delicate Rosè or a red young wine to be served at 55°F
Soft grain cheese such as Swiss Emmental or Italian sheep Caciotta.
– Wine : a delicate white wine to be served at 50°F
Seasoned soft cheese such as blue cheese or Gorgonzola
– Wine : Full-bodied white to be served at 60°F
First course dishes:
Pasta with meat such as Ragù tomato sauce or Bacon.
– Wine : a young red or Rosè served between 55/60°F
Risotto with seafood such as clams, mussels, and squid
– Wine : a dry white served at 55°F
Second course dishes:
Dishes including cooked seafood such as clams,mussels,squid, etc.
– Wine : fruity dry whites served at 50°F
Grilled or fried fish such as sea bass or cod.
– Wine : a dry white or a light Rosè to be served between 55/60°F
Grilled red meat such as steak.
– Wine : a lively moderately aged red wine to be served at 65°F
Grilled white meat such as chicken breast.
– Wine : a dry white or a Rosè to be served at 55/60°F
Finally we conclude with Dessert.
Cakes, pound cakes or cookies
– Wine : a dry sparkling white wine served at 45°F
Spoon Desserts such as custard, pudding, soufflé, tiramisu.
– Wine : a sweet or sparkling white to be served at 45°F
Fresh fruit salad.
– Wine : an aromatic and fruity white to be served at 45°F
This quick guideline for wine and food pairing is just an introduction to the countless combinations that
can be done. With a little preparation and knowledge of the flavors to be served, your guests will be asking for more!
Found the article interesting? Please let us know by leaving a comment below.