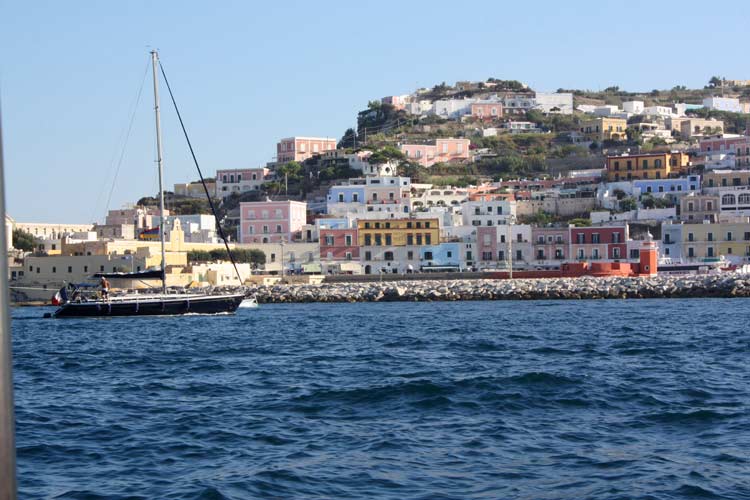 It is not a secret that summer in Italy can get really hot and torrid. Just last year, 2017, Italy witnessed one of the hottest summers in recorded history. Rome's emergency water reservoir, the lake of Bracciano, dropped to a staggering all time low. Fishermen who have lived their whole lives there have never seen the water line drop so low. Even the historic drinking fountains known as "Nasoni", scattered all over Rome, were turned off because of the prolonged drought.
As early as mid May the weather warms up enough to enjoy the beach and the season can last all the way until mid October. Big cities like Rome, Florence, Bologna, Milano, etc. will gradually empty out of most of the locals as an undetectable migration towards the coastlines begins.
The beautiful Island of Ponza, nestled between Rome and Naples, is a fast growing favorite. The uncontaminated beauty of this island has only been known to a few. It could be due to the full day trip it takes to arrive, enjoy the peace and return to the main land or mainly because it is kept a secret just like a grandmother's recipe. But with a little planning and a full day available you too can return with a golden tan, tired eyes and with a grin of contentment.
How to get to Ponza from Rome
So without further ado, here's our quick and easy advice on how to get to Ponza from Rome. Like mentioned above keep in mind that a visit to Ponza is a full day experience. Needless to say also is pack a towel, bathing suit, sunscreen, sandals, sunglasses, snacks, water and a hat.
Once you know the port where to catch the ferry, book your tickets online through http://www.laziomar.it/ (we apologize but at the moment of writing there's no English version). Once the tickets are booked you will receive a code via email and with it you will have to go to the ticket booth of LazioMar and show the attendants the code and in return they will give you the proper round trip tickets. Keep an eye on the weather the day before you plan to visit, since the ferries depart only when there are favorable conditions. Here,a very helpful website to do this: https://ponza.orarimarittimi.it/en/
From Rome to Anzio by train only from the 15th of June til the 16th of September. At Termini train station take the regional train to Nettuno. Tickets can be bought online http://www.trenitalia.com/tcom-en
After about an hour ride, get off on the 10th stop called Anzio. From there head towards the "porto" or port, about a 10 minute walk. Look for "Piazzale Sant'Antonio" where you will find the LazioMar booth where you can retrieve your round trip tickets. Keep in mind that at Anzio the ferry to Ponza departs promptly at 08:45 a.m. So the early train of 06:40 a.m. from Rome is highly recommended. Here's the schedule of the ferries from Anzio http://www.laziomar.it/anzio-ponza
From Rome to Formia/Gaeta by train
At Termini train station there are 2 options: one is a regional train that takes about 1hr and 20 minutes (10th stops) to Formia/Gaeta; the other is faster 1hr (2nd stop) train called "Intercity." It all depends on what time the ferry departs from Formia's port. Here's the schedule of the ferries from Formia http://www.laziomar.it/formia-ponza
Once you have arrived at Formia, exit the train station into a parking lot. Directly in front of the parking lot there will be a stair case going down. Keep straight and you will come across a cobble stone road called "via Ferdinando Lavanga" and go left. After about 100 yards to your right you will see a small road called "XX Settembre" go down it. After 20 yards you will notice a main street called "Via Vitruvio" and take a left. Within 50 yards you will see a McDonald's on your left and a bridge on your right called "Via Bruno Tallini". Cross Via Vitruvio and go on the bridge. At the end of the bridge keep to your right and you will see the LazioMar booth at Via Porto Caposele, Formia.
There are others ports that offer a ferry service besides Anzio and Formia. Terracina being another main one and San Felice Circeo. We've mentioned only Anzio and Formia only because they are easily accessible by train as Terracina and San Felice are not.
Finally you made it to Ponza, the Island itself is very small. The beach Chiaia de Luna is almost obligatory to swim in and sun bathe. If time allows it visit "Le Piscine", natural pools of crystal clear water. When lunch comes around you must try the "Tiella" with a sea food filling or simply spaghetti "alle vongole" or with clams.
But Ponza offers it's most Iconic side by boat. A trip to Ponza wouldn't be the same without a boat excursion of the Island. Only by boat can you swim in the inviting waters of the different "Cale" or see the ancient roman cisterns called "Grotte di Pilato" and visit a natural arch, one of Ponza's symbols.
http://www.settemariponza.it/ Via Banchina 25, Isola di Ponza. Settemari is an agency and offer different itineraries and excursions of Ponza.
http://www.ponzadiving.it/ offer a great scuba diving service and are very professional.