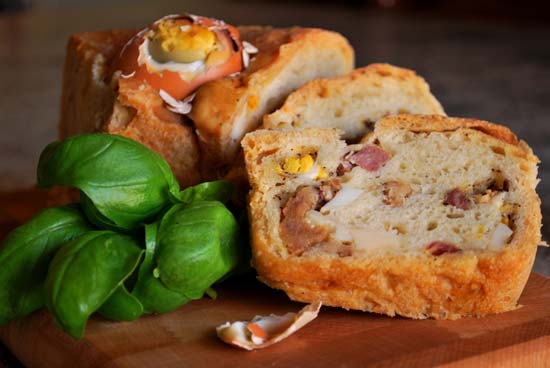 Traditional Easter dishes in Italy
Easter is finally here!
In Italy, Easter or "Pasqua" is celebrated best at the dinner table. Even a popular proverb states " Natale con I tuoi, Pasqua con chi vuoi." Christams with your family, Easter with who ever you like. In all honesty, Easter is celebrated with close family, only on the following day after Easter, called "Pasquetta" ( little Easter ) is when friends meet up and have picnics in local parks and beaches, bringing the left overs from the massive lunch from the day before.
What is served as traditional dishes changes from city to city. Even though there is no written laws on what to serve and how to serve it, the rule of thumb is coastal cities like Venice or Naples specialize on fish and seafood as land locked cities like Milan or Florence specialize on meats and vegetables.
Starting from major cities in the north we will journey south wards, listing all the traditional dishes you need to try if you are visiting one of these cities during Easter Holidays.
Milan
---
Starters
Torta Pasqualina (A rich quiche with spinach, ricotta cheese and whole boiled eggs)
Insalata di Nervetti (Boiled lambs foot cut in thin slices served with herbs)
1st Course
Lasagne alle verdure (A vegetable based lasagna with no minced beef)
2nd Course
Abbacchio al Forno (Baked lamb served with potatoes)
Dessert
Colomba (Typical Easter made with flour, eggs and butter)
Venice
---
1st Course
Risotto agli sparasi (Risotto served with seasonal wild asparagus)
2nd Course
Poenta e schie (Corn meal with grey shrimps typical of the Venetian lagoon)
Figa àea Venessiana (An ancient recipe of Lamb's liver served with onions and butter)
Dessert
Baicoli (Dry cookies excellent for dipping into Coffee or Tea)
Bologna
---
1st Course
Tardura (An Ancient soup made with bread crumbs, eggs and Parmigiano cheese)
2nd Course
Agnello con piselli alla romagnola (Chopped lamb served with bacon and peas)
Agnellone stufato al finocchio (Lamb stew flavored with wild fennel)
Fegato di Agnellone all'aceto balsamico (Lamb's liver served with balsamic vinegar)
Dessert
Panina Pasquale : (A sweet and savory cake made with raisins and anise star seeds)
Florence
---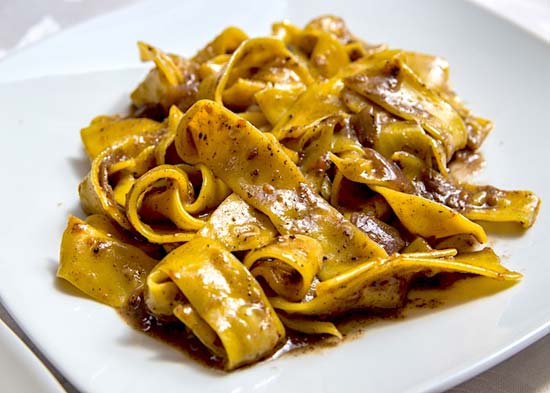 Starters
Crostini di Fegatini (Liver pâté served on toasted bread)
1st Course
Pappardelle sulla Lepre (Pappardelle egg pasta served with wild hare meat sauce)
2nd Course
Bistecca alla Fiorentina (Thick beef steak or T-bone steak)
Dessert
Biscotti Quaresimali di Firenze (Chocolate cookies with shapes and forms of the alphabet)
Rome
---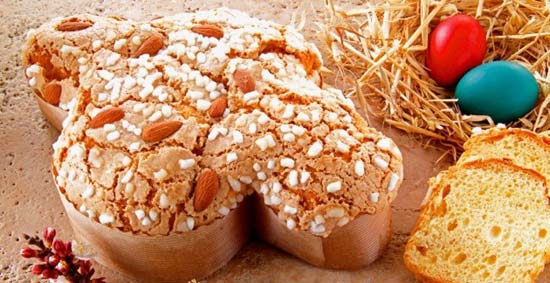 Starters
Colazione Pasquale alla Romana (A platter with Salami, boiled eggs, quiche cakes)
Frittata di Carciofi (Egg omelette served with artichokes)
Carciofi alla Romana (Steamed artichokes with minced garlic and parsley)
1st Course
Pasta alla Carbonara (Spaghetti with eggs, jowl bacon and grounded peppers)
2nd Course
Arrosto al pepe (Roasted Veal served with ground peppers)
Dessert
Milanesini (Butter cookies flavored with lemon peel)
Colomba (Typical Easter made with flour, eggs and butter)
Naples
---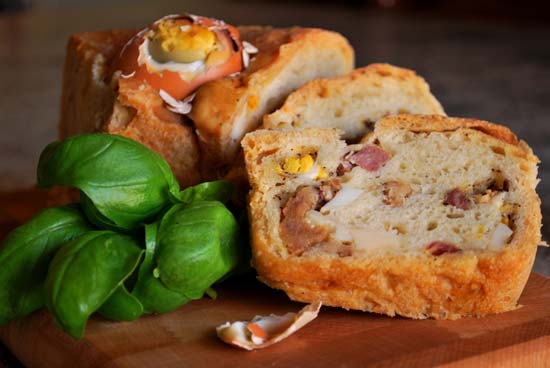 Starters
A Fellata (A platter with Salami, eggs and salted ricotta cheese)
Casatiello (A thick bread made with pig lard, boiled eggs, Salami and cheese)
Carciofi Arrostiti (Baked artichokes garnished with olive oil and garlic)
1st Course
Minestra Maritata (A rich soup served with chicory and pig sausage)
2nd Course
Agnello con piselli e cacio (Lamb with a cream of egg, peas and pecorino cheese)
Dessert
Pastiera (A ricotta cake flavored with candied fruit)
Palermo
---
Starters
U sciuscieddu (Soup served with minced lamb meat falvored with ricotta cheese)
1st Course
Tegame pasquale di Aragona (Oven baked pasta served with tuma cheese)
2nd Course
Agnello al Forno (Baked lamb served with potatoes)
Dessert
Cassata (A rich marzapan cake filled with candid fruits)
We hope you have enjoyed our little adventure through the boot of Italy and hope that we haven't caused too much salivation. Easter is a feast for the eyes and taste buds in Italy, so make sure to try local and traditional delicasies if you happen to be in one of the main cities.
Buona Pasqua!!! Happy Easter!!!